COME IN, COME IN... YOU'RE INVITED!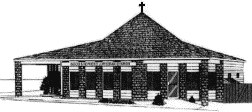 Good Shepherd Lutheran Church
25 Hildegard Dr. (near Mountain Rd.), Moncton
(find us / contact us)
Every Sunday:
Bible Class, 10am
Divine Service, 11am
Sunday School, 2:30pm
Special Events and Resources for Advent and Christmas (2013):
Advent
(the four weeks leading up to
Christmas)

Fri, Nov 29th at 6-8PM
Advent decorating activity:
Come learn about the how and why our church's worship changes to help us prepare for Christmas during Advent, and help decorate our church for Advent!


Wednesdays
Dec 4th, 11th, and 18nd at 7:45PM
Advent Brief Divine Services

Free online and print resources
are available
for each day of Advent
leading up to Christmas.
Use one or more of these by yourself,
as a couple, or with the whole family!


Christmas
Celebrating the Saviourís birth!
(a special invitation!)

Tree decorating party (Sun, 22nd)
a simple community lunch and festivities,
just after the Sunday Service

Christmas Eve (Tues, 24th)
7pm Christmas Vespers (candlelight)

Christmas Day (Wed, 25th)
11am Divine Service of Carols


Also, see our Kids' Corner for online Advent and Christmas activities!



See our monthly calendar of events (PDF) for more!

RESOURCES FOR ADVENT DEVOTIONS
"Advent devotions" are readings and prayers for each day in the three to four weeks leading up to Christmas.
A Note About Printing
Note that sizes refered to below ("8.5x11" / "8.5x14") refer the paper sizes recommended by the authors for best appearance; however, other paper sizes may also be used by adjusting the "Scaling" option when printing. Also, when size is specified, it assumes paper will be printed on both sides (to make a "leaflet" or a "booklet").

Daily Devotions:
Single Page Leaflets



A Brief Order for Advent Family Devotions


"Daily readings from the Sunday Gospels and from prophet Isaiah are matched to Advent Hymns and Prayers for each week in Advent. (Non-dated, and therefore re-usable each year)"


[Read Online
(with helps for readings and hymns)]
[PDF Printable Leaflet (8.5x14)]
(from Good Shepherd Lutheran Church)



Praying the Great "O" Antiphons of Advent


"The seven "O" Antiphons of Advent are ancient prayers (8th century) prayed throughout the world from December 17-24. Each petition focuses on a biblical title given to Christ and asks Him to come and fulfill a scriptural promise or prophecy."


[PDF Printable Leaflet (8.5x11)
with explanation / with hymn]
(from Good Shepherd Lutheran Church)

["O Come, O Come, Emmanuel" (text/tune)]
(from Lutheran-Hymnal.Com)





Daily Devotions:
Booklet

"For the last several years Higher Things has been pleased to provide free devotions, called "Reflections," for youth and their families. These Reflections are centered in the Gospel of Jesus Christ. The texts for each day are taken from the weekday readings in the one year lectionary and from the Small Catechism. If you haven't seen them, check them out today!"


[Read/listen online or print]
(MP3, RSS, Podcast, email subscription, regular and large print, and more available)
(thanks to: "Higher Things: Dare to be Lutheran!")



KIDS' CORNER

Activity Site
Featuring games, coloring, recipes & crafts,
cards, music, Bible stories & videos, devotions for kids...
... and more to come...
Please contact us for more information!

Last Updated: Dec 6, 2013.